If you look in the mirror and you realize that your posture sucks, it probably does. And it's probably time to improve it.
A lot of people in the office work in a seated state and at a desk. Normally your work day consists of around 8 hours of sitting, mixed with the occasional bathroom or lunch break.
If you'd be a super fit human being, who's productive all the time, that wouldn't be an issue. But if you work in an office, chances are your posture sucks. And we need to fix it. Here's why.
Why your poor posture is bad for you
There are tons of visual reasons why your poor posture is bad for you, starting with: You'll look bad in front of the ladies or the guys. Yes, you read that right, bad posture makes you less attractive and than good posture.
Why?
Simple: A human being with a good posture looks in control, self-confident and strong in every way – all items you're looking for in a significant other.
Take a look at Superman, err, Henry Cavill for a second:
Yes, I know he wears a superman suit. Yes, it is photoshopped and yes he's from Krypton so normal rules don't apply. Or do they?
Wouldn't you want to date this guy? Or at least get coffee with him? I know I would!
Or let's look at Hayley Atwell, who plays Agent Carter: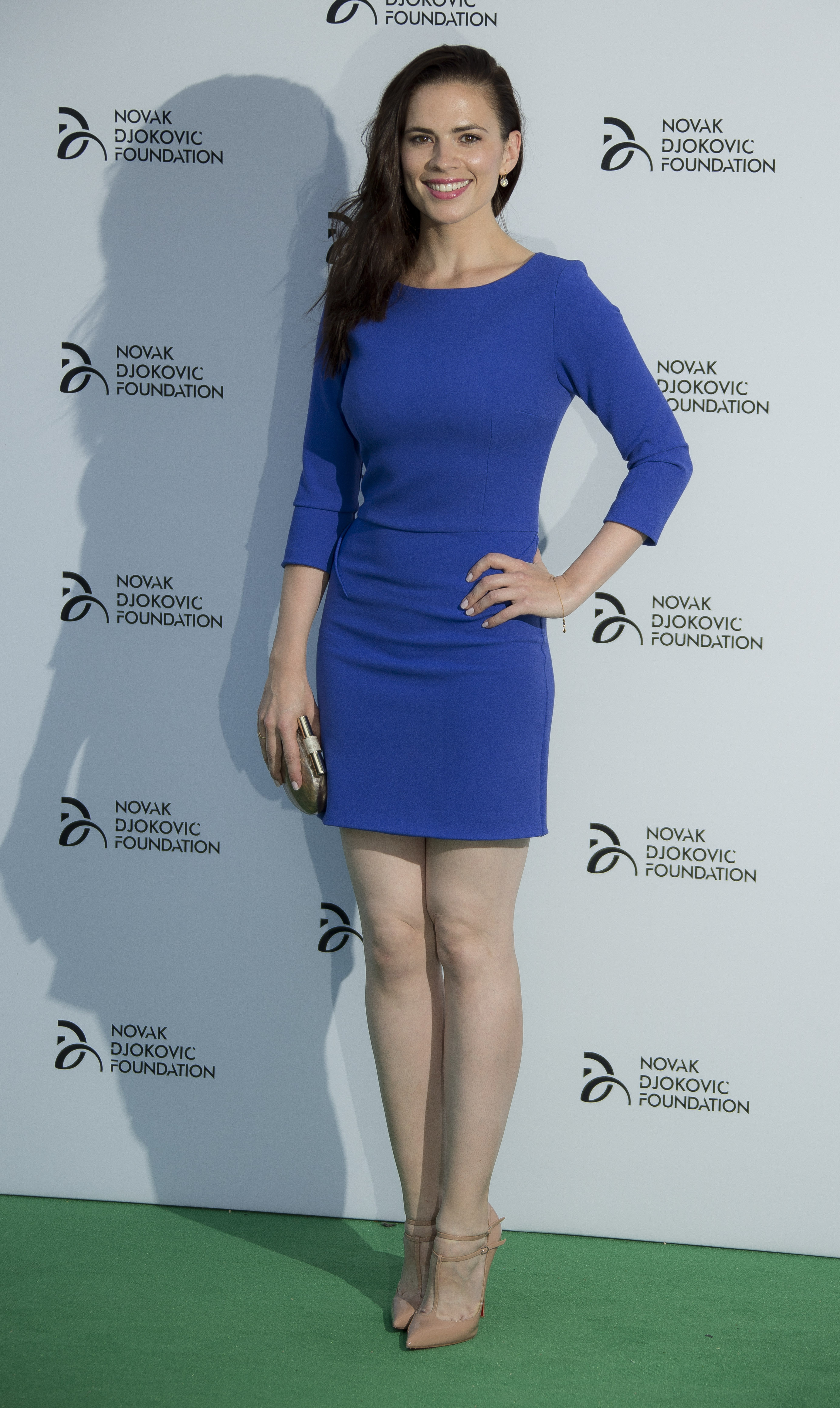 She looks proud and self-confident, which makes her look fabolous. (Yes, I'd also go and drink coffee with her. Obviously.)
Now you might argue that these are stars and there are outliers, but that's not the case. I could show you a thousand stock images right now showing off the exact same elements portayed in these two images above.
And poor posture is really bad for you:
Pain in the neck, shoulder, and back.

Complications: The bad sitting posture causes the chest muscles to tighten leading to an excessively curved back in the upper back or thoracic region. The muscles of the upper back loosen and eventually weaken.

Pain in the neck, shoulder, back

Complications: Sitting in that position causes the chest muscles to tighten, causing the shoulders to rotate forward. Apart from that the muscles of the upper back weakens and loosen.

Medial knee pain, hip pain, and low back pain.

Complications: It adds pressure on the foot, tightens the calf muscles, and may rotate the knees towards each other. It often results in conditions such as Metatarsalgia (pain in the toes of the feet), heel spurs (growth of an extra bone from the heel), plantar fasciitis (pain in the sole of the foot), and bunions (a condition where the part where the great toe joins the rest of the foot, points outwards).

Pain in the lower back (this tilt causes your stomach to protrude outwards even though you may not have any belly fat).

Complications: Hip flexors tighten and glutes (muscles of the buttock) become weak.

Pain in the neck

Complications: Tightness of the muscles of the back of the neck, along with the muscles of the upper back (levator and upper trapezius).

– It can block your digestion system

Because you're in a crunched position your intestines are folded up, which may causse digestion problems

– It affects your happiness level

Surprisingly, less than ideal posture also has the potential to affect mood, according to yoga therapist Carol Krucoff. "Even our language reflects this connection—someone weak is 'spineless' while someone proud 'has backbone'," she adds. In a recent US study, participants were asked to walk down a hall slouching or to skip. The slouchers reported higher feelings of depression and lower energy.

– It can make a pay rise less likely

Slouching can affect the way people view you. "You don't want to walk into an office bent over, because people will perceive you as being less impressive," says Janice Novak, author of Posture, Get It Straight!
Which brings us back to the above point of self-confidence.
So there are multiple reasons why posture is important.
There is some truth to that image!
So some of the problems that you have standing up, you'll directly transfer into your seated state.
How to fix it and where to begin
Before we can start fixing your posture with some exercises, we need to make sure that the soft tissue is ready to get fixed. Why? In my last article I wrote about the injury that I had and how long it took me to get rid of it.
The main issue was that I couldn't fix the underlying problem, without working with the soft tissue first. You have to have reactive soft tissue in order to fix stuff like your posture.
If you're tensed up all the time (which happens, either consciously or unconciously) the muscle (and the entire soft tissue around it) gets really tight and you need some kind of massage work to really losen it up first.
That's why I've put together some types of soft tissue exercises first, before get into the posture fixing exercises.
Let's have a look:
First up is the neck. Which with this type of massage ball, you're going to lie on, on all possible sides
If you don't have a ball, you can also get a foam roller, either the white or black ones at your fitness store. Alternatively (and if you're a bit more advanced) a metal pipe from the hardware store does the job as well:
Then we're gonna hit two more spots, that are important – chest and biceps
In the chest picture, my arm is on the back, so that my chest is fully exposed and the ball can really dig into the tight spot between chest and shoulder (if you're hunched the entire day, chances are your chest is really tight). Through the chest tightness your biceps gets tight as well, which can cause ugly problems with your forearms, fingers and wrists (carpal tunnel and other nasty stuff). In the above image I'm not directly hitting the biceps, but I'm rolling the sides to hit the biceps entirely.
And last but not least, the back:
My arms are crossed like I'm genie, my back is rounded and I'm trying to hit the upper back and all the tight spots there.
I haven't written anything specific about how long or how many reps you should do, but here's a rule of thumb. If it is uncomfortable (not pure pain) explore it, and stay with it. Try to relax by easing your breathing and really try to feel the tissue. Do each side and position for 3-5 min. and then switch it up.
Generally if the area is really tight, you can only do it 2-3 times per week, without hurting yourself. Soft tissue has to adapt as well, so give it time. 
But in normal cases where you feel a bit of tightness in that specific area, you can essentially do it almost every day. 
Give this 4-6 weeks to ease into the exercises.
Remember: Focusing on soft tissue work will already help you improve your posture, since your body is naturally inclined to find the most effective way to stand and sit, with the given environment. Meaning, if you change your soft tissue, it becomes more adaptable and the body will find the most efficient way to stand. 
I've had multiple people ask me whether I built muscle, during the massage time, when I was injured. Simply, because my posture looked better and you could see certain muscles that were glued tightly together (especially the chest area improved in my case). 
Exercises for better posture
Now that we've talked about how loosen up the soft tissue, it's time to look at the exercises that can actually improve your posture.
Dumbbell Bench Press 
The king of all chest exercises is the bench press, but I don't like the barbell version of it, because it's a bit more difficult to do properly. The dumbbell variation also has the benefit of teaching you to balance the weights. Start low and increase from there. Start with 3×8 and build up the reps and then add weight.
Isometric Neck Exercise
Try to push your your head against your neck and then switch hands. So if you're first trying to push forward, you'd push back with your hand on the back of your head. Start with 30sec. per side
Wall Angel
The body is straight and your arms are flexed at a 90 degree angle, just like in the image. From there one try to straighten your arms and slowly get back to the beginning position. Do for 10-20 reps. 
External Rotation
You can do this with either a band or the cable machine. It's not about the amount of weight (when it comes to fixing your posture, it never is!), but rather about the correct form and using the right muscle. Imagine opening a door very mechanically and repeat this for 2×8 and work up to 3×15. 
Back Flies
This next one is very similar to the above one, as in, it uses similar muscles. Imagine that you're trying to pull or rip apart the band. Again, you can do this with cables as well. Work up to 3×15
Seated Cable Row
This is a perfect exercise for the back, similar to the dumbbell bench press, though it works the entire back. 
You can do a variation of this, where you're actually going forward with the cable and then pulling back, but I don't like it. Try to perform it with a straight back and up the weight gradually. Start with 3×8 and work up to 3×12. 
You can do these seated, with a band and a door as well. 
The Routine
You could do all of these exercises in your gym session, or part of your morning or evening routine. A better alternative that I like is, set an alarm reminder, about 3-5 times per day (especially when you're at the office and not standing or squatting) and do about 5-10 reps of these exercises with an exercise.
You can leave the band at the office and do the soft tissue work as part of your morning routine. Then you're all loose and can do these exercises between meetings to be more fresh and more productive. 
Conclusion
As you can see, fixing your posture is not that difficult. However, it requires some planning and some type of soft tissue work, before you can actually tackle the target muscle. Improved posture can help you to be more productive and have more energy, so make sure you implement the above exercises in your routine and let me know how it goes.
Fix your posture:
Check out all the tools I use to fix my posture. Don't neglect the most important part (mentioned in this free PDF)