We all work around texting, snapping or talking on the phone. Even when we're at home on the couch, watching TV or lying in bed, we're texting and using the mobile phone.
That's perfectly fine, I actually believe that the mobile phone makes me more productive at certain times. 
At least that's what I tell myself. In all seriousness though, I can answer emails (although I never do it first thing in the morning or last thing at night) and work on projects while on the go and I'd not want to miss that.
That being said, texting can be a bit problematic, depending on how often you do it. Very similarly to your working environment and your posture while working.
Head position while texting
See, when you're texting you tend to look down and put your neck in a problematic position. That isn't really an issue when you do it once or so per week. But you tend to look at your mobile phone on average between 50 and a 100 times per day. 
You're basically exercising your neck to look down and remove it from a neutral position, strengthening small muscles to look down. 
This phenomenon is actually called "text neck" and its more fancier name is "Anterior Head Syndrome".
This is how it looks: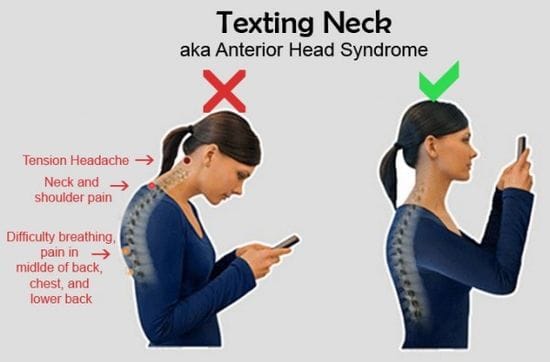 (Source: activebody.com.au)
"But Fey, there is no chance that my head position is that bad!!" is the first thing you'll think yourself. The issue is not necessarily that your current position is like this, but rather, that with time your neck gets used to carrying your heavy head in that position. 
Now your head normally weighs around 10-12lbs (or 5ish kg), but when your neck is in that anterior position and leaning forward, the stress on your neck and upper part of your spine is getting increased, without you noticing. In practice, this is how it looks:
(Source: livestrong.com)
That last position puts your neck under extreme stress, without you seeing or feeling it, but this is exactly how you (and a lot of us!) look when we text of just quickly check our messages.
This is a small (but negative) movement snack for your neck.
What is a movement snack?
I've rarely talked about this concept on the blog, but I'm using this negative example to elaborate it. 
I've first heard about the term movement snack in the Movement Camp 2013 in Singapore, organized by Ido Portal. One of the speakers there, Frank Forencich talked about this thing called movement snacks.
It essentially means small movements you're doing throughout the day to keep moving. Even when you're stationary, working a desk job, it's important to move. That's why I wrote about the idea of rotating desks.
That's why I choose to hang on a pullup bar, to give my spine a small stretch. That's also why I choose to take the stairs and jump sometimes, just to keep it interesting vs. normally walking up and down the stairs. 
That's a movement snack in a positive sense. 
Now in a negative light, that works as well, because with texting as a movement snack, you're accumulating reps without realizing. 
Now I've heard different types of usages of mobile phones throughout the day. News reports say 45 or 85 times per day, on average. And it doesn't really matter. It's enough to cause an issue, hence the phenomenon described above.  
How to fix text neck?
Ok now that we've identified the problem, it's time to talk about a possible solution.
Now there are different exercises you can do for your neck, to strengthen it. But that only works if you do it about the same amount of time you look onto your phone.
A good rule of thumb is, for every time you look down, just do two reps of "neck correcting exercise", shown here:
If you're interested in more exercises you can do for your neck and your posture, make sure to check out Posture Coach.
Another alternative is to never let text neck happen. Simply by holding your mobile phone higher when you text or look something up, you can avoid much of the damage.
This is how it looks:
The same applies to texting while walking, just keep the phone higher. And don't forget to use your eyes!
You don't always have to keep your neck super straight and your phone at eye height. You can move your eyes a bit and position your phone a bit below shoulder height. Chest height should work perfectly. 
That way it doesn't look too awkward when you're texting and you're keeping your neck in a fairly neutral position. 
Conclusion
As we've seen, texting can be super productive but also super unhealthy, depending on your neck position. A texting neck is a phenomenon that does exist and might happen do you as well. With that you can get neck, back or shoulder pain if you're not careful. So the best way to avoid that is by staying healthy while texting. 
Try some of the tips explained above, where you keep your mobile phone on chest height and simply move your eyes down versus your entire neck and head. 
If you want to keep a healthy posture and neck position, make sure to use Posture Coach (iPhone version coming soon!) on a daily basis.