With this post I want to officially start Yoga Week at bitehype! I looked for the coolest Yoga people around the world (read: the web) and asked them about their secrets. What are their favorite poses? How can one get started with Yoga? Do I need to be religious for Yoga?
Let's kick it off, with a super inspirational person: Kathryn Budig. She has been trained and taught Yoga for over 8 years in Los Angeles. Now she travels the world to share her message.
Bitehype asked Kathryn Budig: "What are your top three yoga poses?"
Her answer:
"This is a tricky questions considering there are about 4,000 postures to choose from, but I'd have to say Happy Baby, Double Pigeon and Handstand. Happy Baby does wonders for my hip flexors and lower back, Double Pigeon is the best way to release my hips after too many hours traveling or on the computer, and Handstand reminds me to be playful and that magic is real."
Let's check out these poses, one by one
Yoga Pose #1 – Happy Baby
The Happy Baby pose is, like the name suggests, a pose a lot of babies do when they are lying on their back. You lie on your back, lift your feet up high and touch your feet, the picture shows it a bit better:
We've seen a lot of variations of this, especially when it comes to touching the feet (where should you hold your feet exactly?) and it essentially comes down to comfort and preference. Some people like to hold their toes, some people like to hold the middle of their feet (like in the picture). Don't pull your legs down to strongly with your hands, just gently hold them.
This video shows a bit more detail on the pose:
(please ignore the esoteric music :))
There is also the Half Baby pose, as you can see here:
Like Kathryn mentioned above, it really helps with her hip flexors and her lower back, so give this a try and let us know how you felt.
Yoga Pose #2 – Double Pigeon
The double pigeon is another very helpful Yoga pose for beginners. This is how it looks: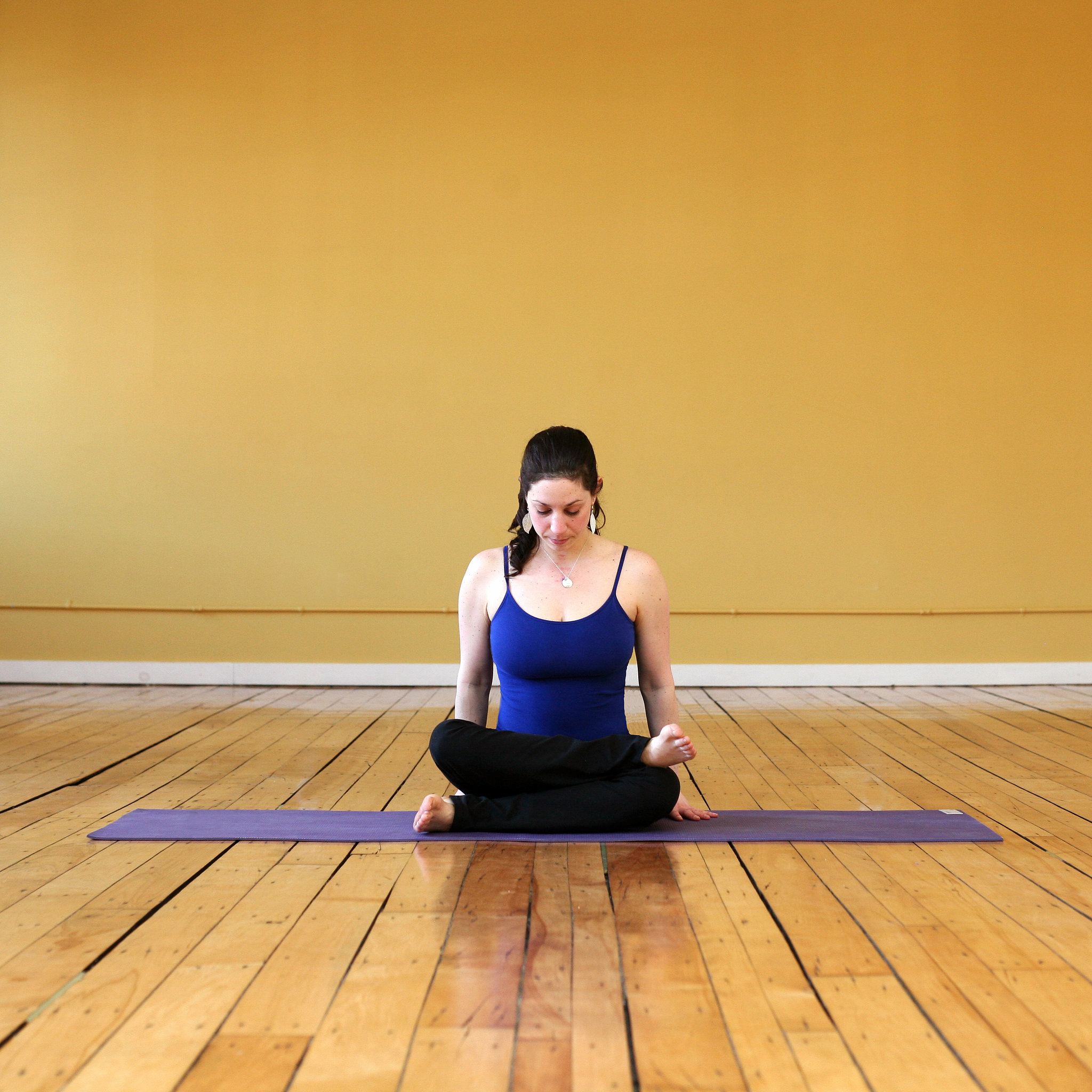 As you may know this is a very known Yoga pose and a lot of Yogis prefer to sit like that, when they rest. It's a very basic position, but a lot of people might struggle with this one, because their hips are too tight. Just trust in the process and try to do it wherever you can, like Kathryn:
A very good tutorial video on the double pigeon pose can be found here:
As you can see in the video, it's absolutely ok to use yoga blocks or mats as additional help, if your hips are just too tight.
Yoga Pose #3 – Handstand
The handstand, what a wonderful and magical position! Kathryn shows us how it looks:
Another interesting variation:
The handstand is definitely an advanced pose, so get started slowly! If you still want to do it, make sure to check out this great tutorial:
And here from the Kathryn herself, again a more advanced version of the handstand:
Eat like a Yogi to feel like a Yogi
As some of you already know, here at bitehype, we talk a lot about the importance of healthy food. Kathryn is also a big believer in healthy food (hence her nickname: Yogi Foodie). We asked her about her favorite healthy recipes and she was so kind to share them with us:
Conclusion
What a start into Yoga week! Kathryn is definitely super inspiring. Check her out here:
Also check out her book on Yoga